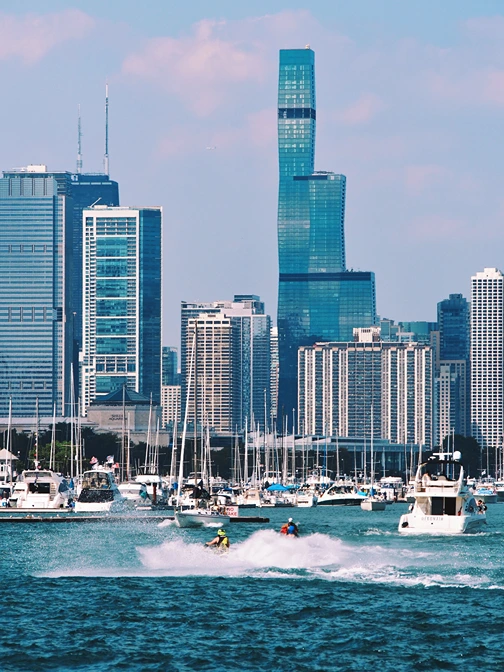 There's nothing like a Chicago summer spent on the lake. Whether it's sailing through the expansiveness of Lake Michigan or paddling down the Chicago River, Chicagoans waste no time getting on a boat as soon as the bitter winter ends. But with all the joys of boating, it's easy to forget the risks that come along with it.
Boat accidents happen, and when they do, it can be a terrifying experience for all involved. If you were recently in a boating accident, it's important to know what steps to take next. A boating accident is similar to a car accident in that both parties involved will need to determine who was at fault and liable for any injuries or damages.
Having a Chicago boat accident lawyer in your corner will make this process much easier for you. Allow Disparti Law Group Accident & Injury Lawyers to use our skills and expertise to help maximize the compensation you may be entitled to.
Table of Contents:
Boat Accident Statistics
Chicago is home to America's largest municipal harbor system, situated along Lake Michigan, the second-largest great lake. While boating accident fatalities in the great lakes are not as common as car accidents, they are not unheard of. As of April 2023, there have been 15 fatalities in the great lakes, 5 of which were in Lake Michigan.
In 2020, 21 boating fatalities were recorded in Illinois. Fifteen could have been prevented if the victims had worn life jackets. Seven involved drivers under the influence of drugs and alcohol and all but one involved a boat owner who had no boat safety education.
Common Causes of Chicago Boating Accidents
Boating accidents occur for any number of reasons. But according to the U.S. Coast Guard, the number one cause of boating accidents is operator inattention. The top five causes of Chicago boating accidents include:
Operator inattention
Improper lookout
Operator inexperience
Excessive speed
Machinery Failure
Taking the proper safety precautions can go a long way in keeping boat passengers safe. This could mean always wearing a life jacket, taking a boat safety class, and never operating a boat while intoxicated.
Types of Boat Accident Injuries
Boat accidents can lead to a variety of injuries, some of which can be severe or even life-threatening. Here are five types of boat accident injuries:
Traumatic Brain Injuries (TBI)
A boat collision or impact can cause a person's head to strike a hard surface, leading to a traumatic brain injury. TBIs can range from mild concussions to severe brain damage. Any type of TBI should be taken seriously as it can result in cognitive impairments, memory loss, and physical disabilities.
Spinal Cord Injuries
One of the more traumatic injuries that can result from a boat accident is a spinal cord injury. These injuries are often caused by sudden jolts or impacts and can lead to paralysis or loss of sensation in various parts of the body. In severe cases, SCIs can result in permanent disabilities.
Fractures and Broken Bones
Falls or being thrown overboard happen easily in boating accidents. They often result in broken arms, legs, ribs, or other skeletal injuries. In the worst case situations, a person may require amputation if caught in the boat's propellers. These injuries often require medical intervention and the at-fault party should be responsible for covering these expenses.
Drowning and Near-Drowning
Boat accidents can lead to individuals falling overboard, potentially resulting in drowning or near-drowning experiences. Near-drowning can cause serious injuries, including lung damage, brain damage from oxygen deprivation, and complications such as pneumonia or respiratory distress.
Cuts, Lacerations, and Soft Tissue Injuries
During a boat accident, people may be thrown into sharp or jagged objects, resulting in cuts and lacerations. Additionally, the impact of a collision or sudden deceleration can cause soft tissue injuries, such as bruises, sprains, strains, or tears in muscles, ligaments, or tendons.
It is important to note that the severity of these injuries can vary greatly depending on factors such as the nature of the accident, the speed of the boat, and whether safety precautions were taken. Boat accidents can be highly dangerous, and prompt medical attention is essential in all cases to assess and treat injuries appropriately.
When to Report Boating Accidents
Some boating accidents that are very minor may not need to be reported. For example, if an accident resulted in a small cut that a band-aid can fix or property damage to the tune of a few scratches on the paint, you likely will not need to report it to the Illinois Department of Natural Resources.
However, there are specific cases in which a boating accident must be reported such as when the accident results in:
loss of life
an injury greater than first aid
property damage valuing $2,000 or more.
Any Chicago boat accident lawyer would be able to confirm for you whether or not you need to report your accident and would be able to help you through this process.
What to Do Following a Chicago Boating Accident
In the event of a boating accident, it's easy to be frazzled and disoriented. Here's what you should do following a Chicago boating accident.
Ensure that all individuals are safe and unharmed. Seek immediate medical attention if necessary. The safety and well-being of everyone involved should be the top priority.
Gather information and evidence related to the accident. Take photographs of the scene, including any damages to vessels or property, and exchange contact information with the other party involved in the accident as well as any witnesses present.
Seek legal advice before speaking with insurance companies if possible. Contacting a boat accident lawyer can provide you with valuable guidance and support during the aftermath. A lawyer can assist you in reporting the accident to the relevant authorities, conducting an investigation, filing insurance claims, and potentially pursuing legal action if needed.
Damages Available for a Boating Accident
Damages available for a boating accident can vary depending on the circumstances, jurisdiction, and applicable laws. Here are some common types of damages that may be available:
Medical Expenses: If you have suffered injuries in a boating accident, you may be entitled to compensation for medical expenses. This includes costs for hospitalization, surgeries, medications, rehabilitation, and ongoing treatment related to the accident.
Property Damage: If your boat or personal property was damaged in the accident, you may be able to seek compensation for the replacement or repair costs. This can include damage to your boat, equipment, or any other belongings that were affected in the accident.
Lost Wages: If the injuries sustained in the boating accident have caused you to miss work or have resulted in a diminished earning capacity, you may be eligible to claim compensation for lost wages. This includes both the income you have already lost and any future income you may potentially lose due to the accident.
Pain and Suffering: Boating accident victims may be able to seek damages for physical pain, emotional distress, and mental anguish caused by the accident and resulting injuries. This type of compensation aims to address the non-economic impact of the accident on your quality of life and well-being.
Wrongful Death: In cases where a boating accident causes severe injuries or death, the spouse or family members may be able to claim damages for the loss of companionship, affection, and support that the injured or deceased person would have provided.
Punitive Damages: In certain situations where the actions of the responsible party were particularly reckless or intentional, punitive damages may be awarded. Punitive damages aim to punish the wrongdoer and deter similar behavior in the future.
It's important to consult with a boat accident lawyer who can assess your specific case, applicable laws, and potential damages available to you. They can provide guidance and help pursue the appropriate compensation for your losses.
Contact an Experienced Chicago Boat Accident Lawyer
Boating accident lawsuits can become complicated depending on the circumstances. Having an experienced boating accident lawyer in your corner will give you the time and energy to recover from the ordeal. The last thing you should have to deal with while trying to recover from your injuries is a complicated legal process.
Our Chicago boating accident attorneys go to bat for you, leveling the playing field with big insurance companies. Call (312) 600-6000 today for a FREE consultation.
Chicago boat accident lawyer (312) 600-6000
121 W Wacker Drive, Suite 2300 Chicago, IL 60601